Adobe Offsetting: December 2013
Waking up this Christmas morning, I have one task—a monthly donation as part of my monthly anti-Adobe commitment. With the emergence of the Creative Cloud, it's more important than ever for artists to support alternatives to subscription-based software. So for this month, my software of choice is Tupi.
Open source is free, right?
The biggest misconception about open source software is that it's free. Yes, it's free to download and to use. The code is accessible to tweak and adjust for savvier users. Even though the software is free, it takes a lot of effort and time for development. Donations help developers stay on track with there vision and hire help or acquire resources.
Why Tupi?
Tupi is vector animation software that was resurrected from a earlier program that was abandoned called Ktoon. The program takes traditional animation and digitizes the experience. The setup and interface is similar to Toon Boom Studio. You work with an X-Sheet and have layers. Tupi also has tween making capabilities. All of these features are impressive but early in development.
Early this year the lead developer, Gustavo, tried to get funding for the development of Tupi. The donations were intended to secure a full-time developer for one year. Even though the fundraising effort landed short of it's goal, it did recieve 118 backers, including big talents like Nina Paley. I tried to do my part for the Kickstarter by helping Gustavo write his script for the video. There are tons of ways that you can pitch in for support.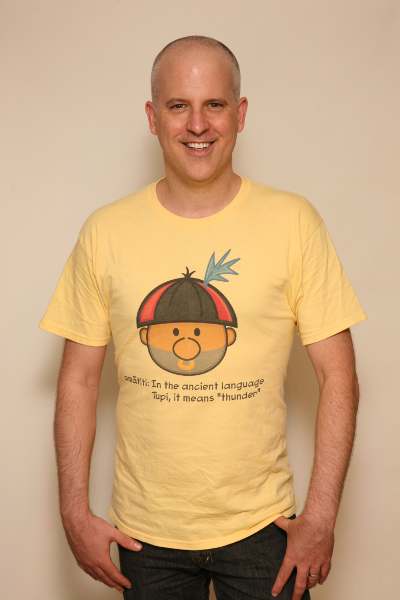 For donating, you don't need a Kickstarter, just go to Tupi's donation page. You can support by Gustavo and the project by buying a t-shirt or other swag. Wear the Tupi logo with pride and become a walking billboard for innovative software. You can also give money through Paypal. Donating is just about spending money. If you're strapped for cash but want to show support, consider joining the project—animators and developers are welcome. Go here if you want to sign up at a beta tester. Also, if you have old laptops that you're looking to get rid of, Gustavo and his team is always looking for an extra computer.
Knack for innovation
Even though Gustavo didn't meet his goal for the Kickstarter, it hasn't stopped him from moving forward with Tupi. He's  forward-thinking and really understands what artists want. Here are some of the new and wonderful features in Tupi.
Import editable Gimp, Krita, and Inkscape files. This is a brand new feature. For artists who are familiar with Adobe's smart object layers, it's similar. Now with Tupi you can create a new Gimp, Krita or Inkscape file inside Tupi. Doing this will launch the appropriate program. When you save the file, you can go back to Tupi and update the file instance. This will update the edited file, linking the two. It's really pretty amazing. It makes working between programs much easier ! Tupi has beaten everyone else in the open-source community for creating a seamless sharing of assets between programs.
Greater stability and usability. Since the Kickstarter this summer, Gustavo has been working hard to make the program usable for artists. He's worked on object ordering, outstanding brush tool adjustments and oodles of bug fixes.
Create scrolling backgrounds. Part of the tweening includes looping background, motion tweens and rotation tweens.
Gustavo has been working on expanding options for all types of tweening.
Work on the same file simultaneously. Gustavo has been working on a way for artists to be working in the same file at the same time—kind of like Google Docs. This is great leap forward for artistic collaboration.
Tupi on Mac!
This needed it's own headline for me. I'm so excited to try my new Yiynova drawing tablet on my Mac with Tupi. Tupi is currently on Linux and Android. Being on the Mac is really going to increase the user base and potential supporters.
Reaching new heights
Think of giving to Tupi this holiday season.Tupi is a wonderful program. Though still in its infancy, Tupi has accomplished a lot in a very short period of time. If you're looking for 2D animation software that you is built with the artist in mind, then look no further. If you're looking for a polished piece of software for professional animations, then Tupi isn't for you. Tupi's a prime opportunity for developers and artists to join together and show large software companies like Adobe that we can make our own tools.