Android drawing app showdown
One of the best things about buying a new device is finding out what it can do. A few months ago I bought a 12" Samsung Note Pro. I couldn't wait any longer for Apple's 12" tablet and the Note was being sold at a steal. With the new tablet came an assortment of apps to try out. Since I was new to Android, I dug in and tried out painting and drawing apps from Google Play. There were names like ArtRage and Sketchbook that I was familiar with, but there were others that were completely new and foreign.
I thought that it would be fun to download and review a handful of apps to break in my new tablet and figure out which apps would be additions to my workflow.
The nitty gritty
This is an informal review, giving you a first impression of what I thought of each app, highlighting any strengths and weaknesses. Since these are not in-depth reviews, I may have overlooked features or tools. Please let me know if you have any insights or additional info to include. I'm still in learning mode for all of the programs and the device.
For fun, I drew an illustration of Dazzler, a crime-fighting disco singer, in each of the apps. I noticed that in the apps that I didn't like, the illustrations were stiff or took a long time to create. The power to drawing on a tablet is portability and not having to lug around an assortment of crayons, charcoals, brushes, paper, and rulers. Sometimes the sacrifice for working on a tablet app is speed. I used ArtRage on my iPad, and I would have to save often, taking minutes per save.
Loving rejection
The biggest plus I've found in drawing in any of the Android apps is having palm rejection. Working on the iPad, I got used to drawing and paint with my hand never resting on the screen. Having this feature alone has increased my line quality, accuracy, and speed. I wouldn't be able to going back to creating art on iPad—working on the Note feels much more natural.
The good, the bad, and the ugly
Most of the apps were good. Corel Painter Mobile was the most fun to use while also having the most amount of bugs. Clover Paint's an app that you can't judge by its "cover". The interface was the least attractive but the paint options were robust and endless. Medibang Paint Tab is a solid Manga creator with tons of features and its 100% free. Below are individual reviews and charts showing what features are included in each app.
Price: Free/in app purchases
Rating: ★☆☆☆☆
Manual: None
First impression: Sorry to start off with such a low rating for the first app. I heard a lot of good things about Artflow from friends and was looking forward to trying it out for myself. Overall, the interface is really clunky. I found myself having to drill down into the menus to get to preferences or tools that I wanted. I could pinch to zoom but there was no two-finger rotating. Rotating the canvas on the fly is a basic feature that I've come to rely on while painting on my tablet. There is a rotate layer function buried in the transform tool, but I think that rotates the image instead of the canvas view and might compromise image quality.
The brushes and painting require blending by smudging the colors directly instead of being equipped with natural media brushes. People who use Photoshop instead of MyPaint, Krita, or ArtRage will be more comfortable with this type of painting workflow.
Something happened while I was clearing out files that I didn't want. I opened the app after deleting unwanted files to find the file that I was also deleted. I wasn't too upset about losing the file because I wasn't pleased with the drawing that I created.
Artflow was one of the biggest disappointments. I was expecting a better experience than I got.
Price: Free/in app purchases
Rating: ★★★★☆
Manual: Link
First impression: Sketchbook has always been a wonderful desktop program for drafting ideas or doodling. I bought the app for the iPad, but I never found myself using it since the iPad doesn't have palm rejection technology. Drawing a steady line without resting my palm on the screen or having auto correction rendered the app useless.
Using Sketchbook on my Samsung Tablet is a whole new experience. The app had one of the best drawing experiences. Sketchbook was one of the few apps where I felt like the drawing experience was as fast as drawing on paper. It's brushes were fluid and the strokes interact like natural media, blending together wonderfully. Sketchbook responds quickly to the touch, and the most used features are right on the surface of the interface. I've had a lot of experience with Sketchbook, but I think that anyone used to painting apps can pick up how to use the program easily. Their UI design has always been top notch.
One of the downsides were the size limitations. In order for users to have such a snappy experience, Autodesk decided to limit the max canvas size and the max number of layers. The largest canvas size allowed is 2830 X 2830 pixels and gives you only four separate layers to work on. You can get more layers reducing the size of your canvas. A smaller canvas equals more layers. I didn't find this to be an issue for me. If you want to work on a larger file, you could always start on the tablet, export to a PC, and up-res to the size that you need.
Autodesk Sketchbook is free, but it's worth purchasing the upgrade for the selection tools and other features. Download it and try out the interface. If you like it, buy the extras via in-app purchase.
Price: Free/in app purchases
Rating: ★★★☆☆
Manual: None
First impression: I used to have Corel Painter for the Mac, but I found that there was too much brush lag when I tried to paint large scale work. For any painting needs, I opted to using ArtRage on the Mac. I was reluctant to purchase Corel's app version expecting the same experience. I turned out to be incredibly wrong. The app turned out to be one my favorite apps to draw in. The brushes are speedy and dynamic, giving you watercolors that bleed on the page as you apply them and wonderful color blending. I loved the clean and simple interface.
Painter and Sketchbook were the two apps that I thought felt closest to natural media. Like Sketchbook, there are limitations to the canvas size—but unlike Sketchbook, Painter was glitchy. Switching between layers would make the canvas display go haywire. Usually turning on and off the visibility of the current layer would correct any odd display issues. I also found the app crashing often when the file would become more complicated and sometimes the app would take some coaxing to reopen. The upside to unnecessary crashes was that my work was always autosave and I didn't lose any progress. Exporting my painting as a PNG didn't preserve the layer transparency, giving me unintended results.
Despite it's shortcomings, Painter is a boatload of fun to work in and I would have rated the app higher if it was more stable. The brushes were the best of any of the apps. I look forward to using Painter more in the coming months.
Price: $8.00 USD
Rating: ★☆☆☆☆
Manual: none
First impression: LayerPaint is the app that I would be least inclined use again. The brushes took a lot of effort to blend color and get any desired paint effect. For being one of the higher priced apps, not having the two-finger canvas rotation is inexcusable. The interface is mediocre at best and the overall experience left me wanting more. This is your app if your looking for a sub-par brush engine, excessive brush lag and uninspired user interface.
Price: $7.56 USD
Rating: ★★★☆☆
Manual: in app help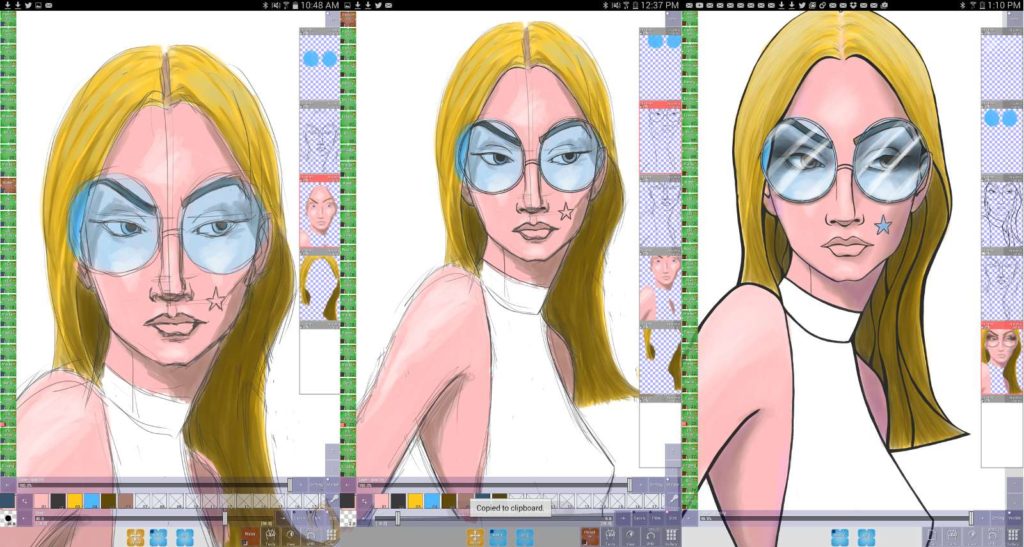 First impression: Clover Paint's interface can be off-putting and the learning curve can be steep, but the payoff for overcoming both is enormous. When I opened the app for the first time, I showed it to friends and we all had a good laugh. If garish green brush options that litter the left side of the screen don't make you a little queasy, all the miscellaneous options and sliders framing your canvas might tip you over the edge. When I first tried to use the program, I just didn't like the overall feel. The file size that I was working in was 3000 X 4600 pixels and there was brush lag when using large brushes.
In the Google Play store there were tons of positive reviews. I knew that I had to be missing something, so I decided not to give up and try again. Before jumping back into painting, I downloaded the manual and watched a few videos. Taking time to check out tutorials and manuals paid off. Clover Paint turned out to be a program that I enjoyed working emmensely. The program is very powerful and I don't think that I even scratched the surface of what it can do.
The amount of customization in this app is staggering and truly overwhelming. It takes an investment to understand all the features and preferences, but it seems that the possibilities are endless. As the app matures, I hope that its developers will invest time in creating a more inviting and intuitive interface.
Price: Free/In app purchases
Rating: ★★★☆☆
Manual: in app help
First impression: Infinite Painter was strong contender in the pack. While there is a maximum canvas size, it seems that you can create an nearly infinite amount of layers in the app. Infinite Painter had smudge tools instead of natural media brushes, but the smudge tools were the best of any of the apps. You could apply smudging to any brush you were using. The brushes themselves were pretty nice, giving a wide varied of standard brushes and the ability to customize. The interface is lightweight and great for quick sketching. Using Infinite Painter is similar to Sketchbook. If I had to choose where to spend my money, Sketchbook would be my pick. If you love to dabble and try new painting apps, Infinite Painter is definitely worth its weight.
Price: Free
Rating: ★★★★☆
Manual: link
First impression: Mediabang Paint was a late contender to enter the race. I heard about the app from Dirk Baeten, a fellow animation/illustration aficionado. The app is intended for Manga and it's free. I loved drawing in the app. I didn't notice much difference between the pencil and brush tools. The brush engines are not as advanced as other programs, but don't overlook this app. The line quality is really nice and drawing feels smoother than other programs. What you lose in dynamic brushes, you gain in speed. You can ink at break-neck speed at very large sizes without any lagging.
Like Photoshop, MediBang blends with blurs and smudging. Of all the programs, Medibang's blur and finger tools seemed the most primitive. I found it easier working in black and white as opposed to full color because the blending tools weren't advanced enough for use. This makes sense because its main purpose is Manga.
Another issue is drawing while you rest your your palm. The palm rejection works, but if you lower your hand onto the screen too fast while drawing, you'll will get a slight hick-up at the beginning of your line.
There are advanced features in Medibang that aren't in the other apps like textures, halftones, text bubble (I couldn't get this to work), and even filter effects like Gaussian Blur and Hue/Saturation/Brightness.
There are buttons at the bottom of the screen for rotating the canvas while drawing instead of having gestural rotation. Clicking on the rotate buttons for getting the right angle can be tedious and take time.
If you want to create comics or Manga there's a panel tool to help you divvy up the action on your page. You can easily divide panels and later if you want to alter the size of the panel, you can edit it like a vector shape.
Medibang is definitely a tool that I would use to create storyboard. It's the only app that's fast without having to compromise canvas size or number of layers. The image that I was working on was 4,000 X 6,000 pixels and it responded without hesitation. The program is deep like Clover Paint, but it's much easier to use. Clover Paint could learn from their UI. I was able to figure out how to how most of the features without any help from documentation. There's a help icon in the upper left corner you can tap for more info at any time.
Even though they need to work a lot on the brushes, I highly recommend trying this app. Medibang also has a software version for both the Mac and PC for easily exporting your files and working on your desktop. I would be surprised if it doesn't replace what you're already using for daily doodles.
Breakdowns
Below are side-by-side comparison charts for all of the apps. The charts are broken into three catagories—Fundamentals, Navigation, Drafting, and Painting. All artists have specific requirements for their software and I thought it would be good to see the apps' similarities and differences at a glance so you could decide which best fits your needs.
Fundamentals
[table width="600px"] , Documentation, Stable app, Max size, PC program, Number of layers
Artflow
,  , X, 4096 X 4096,  , Unlimited
Autodesk Sketchbook
, X, X, 2830 X 2830, X, Depends on size
Corel Painter Mobile
,  ,  , 2560 X 2560, X, Unlimited
Clover Paint
, X, X, Unlimited,  , Unlimited
LayerPaint HD
,  ,  , Unlimited,  , Unlimited
Infinite Painter
, X ,X, 2048 X 2048,  , Unlimited
MediBang Paint
, X, X, Unlimited, X, Unlimited
[/table]
Navigation
[table width="600px"] , Palm rejection, Finger canvas rotation, Pinch-to-zoom, Import image, Flip view
Artflow
, X, , X, X,
Autodesk Sketchbook
, X, X, X, X,
Corel Painter Mobile
, X, X, X, X,
Clover Paint
, X, X, X, X, X
LayerPaint HD
, X, X, X, X, X
Infinite Painter
, X, X, X, X, X
MediBang Paint
, X, , X, X,
[/table]
Drafting
[table width="600px"] , Guides, Selection tools, Transform tools, Symmetry drawing, Layer blend modes, Masking
Artflow
, , , X, X, X, ?
Autodesk Sketchbook
, X, X, X, X, X,
Corel Painter Mobile
, X, X, X, X, X,
Clover Paint
, , X, X, X, , X
LayerPaint HD
, X, X, X, , X, X
Infinite Painter
, X, X, X, X, X,
MediBang Paint
, X, X, X, , X,
[/table]
Painting
[table width="600px"] , Robust brush system, Custom palettes, Natural Brushes, Brush lag, Smudge/blur
Artflow
, X, X, , , X
Autodesk Sketchbook
, X, X, X, , X
Corel Painter Mobile
, X, X, X, , X
Clover Paint
, X, X, , X, X
LayerPaint HD
, , X, X, X, X
Infinite Painter
, X, X, , , X
MediBang Paint
, , X, , , X
[/table]
I hope this helps anyone trying to figure out what app suits their needs best. It was fun tinkering and kicking the tires on my new tablet. I still have to find a suitable Android app replacement for InkPad. If anyone has any suggestions for me, I'm all ears. And I'll be happy to answer any questions you have.