Inkpad is a free Illustrator on-the-go
There are many art apps in the iPad store. Lots of them are great beginnings, but they're either gimmicky or you can't figure out how to incorporate them into your daily work. Sorting through all the apps available can be daunting and the store itself feels like a hoarders paradise of crap. There have been a handful of iPad art apps that I've found essential to my work and truly make my iPad a digital sketchbook. Inkpad is definitely topping that list of handy apps.
Illustrator in your pocket
There are a few iPad apps that have a similar interface to Illustrator which make vector art. I hesitated buying any of these vector-creating apps because I've always thought of my iPad more as a painting tool than a drafting tool. I really wished I would have downloaded Inkpad sooner. It has everything that you need in Illustrator to create hand-drawn type or illustrations.
When I was at a meeting for the Starbuck's School of Animation (SSA) a couple of weeks ago, my friend and fellow SSA member, Hannah, tipped me off to Inkpad. She showed me some illustration work that she had done and how cool the interface is. After chatting with her I was convinced to give it a try.
The benefits of Inkpad.
It's free: There's no risk to trying Inkpad. It's a great tool.
No manual needed: This is a perk for many artists. The app just works and the interface is really intuitive. Poking around and trying all the tools will help you figure out options and possibilities. If you're familiar at all with Illustrator or Inkscape, you'll feel right at home. If you're not used to drafting in a vector program, you may hit some stumbling blocks. My suggestion would be to watch some Youtube videos of people using programs like Inkscape or Illustrator to get some vector drafting tips.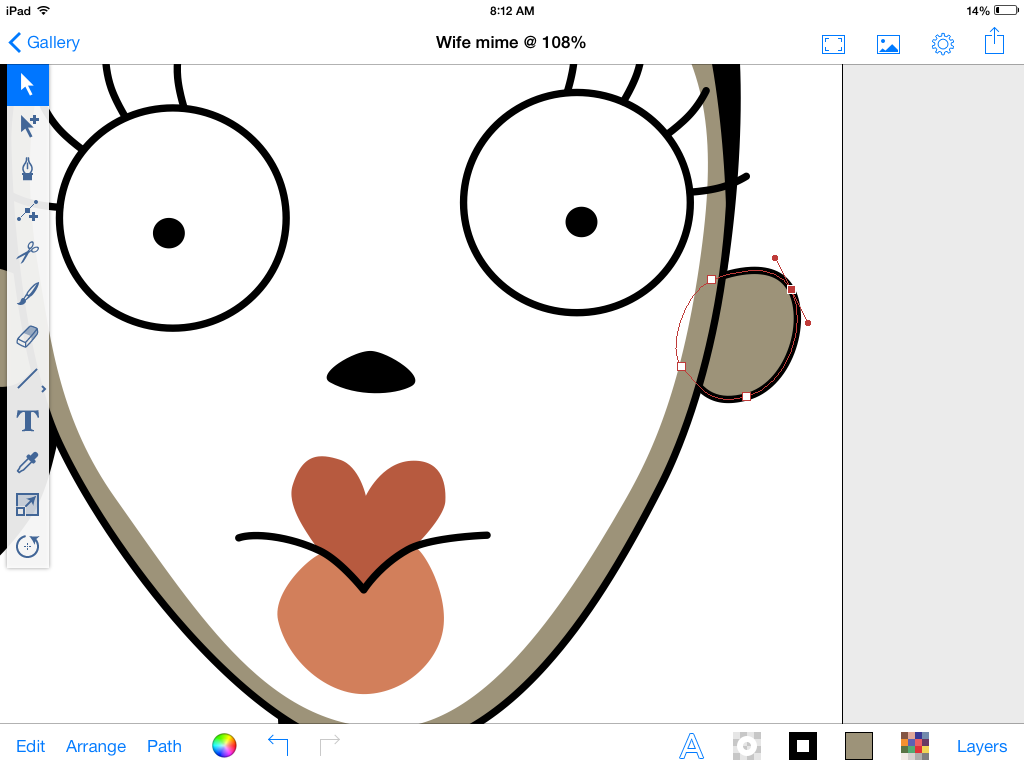 Function matches form: The tactile nature of the iPad works well with drafting with the pen tool. What heightens the experience of Inkpad is it's superior interface design. The GUI is elegant, simple and effective. There is no digging for any options or jumble of dialog boxes to sort through. All of your available options are right on the surface.
Compatability: Create vector art and export your work as SVG for future editing in Inkscape or Illustrator. It's nice to have this portable tool for creating vector art that you can use in your professional work. The other night I was creating silly infographic ideas to use in a marketing piece for work. I was able to draft them and piece them together on my couch while I was watching TV. It was as simple as drawing notes in a notebook. In the morning I was able to easily flip through my ideas on the iPad when I presented them to my boss.
All the essentials: Every function that you would need is pretty much in the app. You're able to align and distribute shapes. There's path functions like minus front and unite. You have the ability to create gradients, opacity and blend modes for individual objects. Two things that are missing or I haven't found yet are X and Y coordinates and maintaining aspect ratio. It would be nice to enter that numbers in X and Y fields if I wanted the shape positioned in a particular spot. Also, I haven't figured if there's a way to maintain the aspect ratio so I can draw a perfect circle or square. So far I've just been eyeballing it.
Inkpad now open source!
As of October of 2013, Inkpad became open source. The creator, Steve Sprang, wrote on his Git Hub page that, "One of my motivations for releasing the source code for Inkpad was to make it a community project." Steve didn't have to do this. Inkpad and his other program Brushes have been successes critically for years and promoted on all of the design publications and blogs as some of the top design apps for the iPad. It's great that he opened up the code and it will be exciting to see what develops as a result.
What about Brushes?
I've also downloaded Brushes to give it a try. One thing that's cool is that you can make custom brushes. I have to say that ArtRage is still my favorite for painting but I'm definitely willing to give Brushes a try. Why now? It's free!