Goodbye Photoshop, hello Gimp
April is a month of change. Filing taxes finally puts 2013 to rest; trees are beginning to bud; and it's a time to start taking those resolutions you've been kicking around seriously. For the longest time I've been trying to sever my relationship with Photoshop. Of all the Adobe products, it's the most essential piece of software in my daily arsenal. I rely on it heavily to produce work. Our relationship hasn't always been all roses, but saying goodbye has proved difficult. I've been using Gimp occasionally as a replacement, but I'm finally ready to start cutting my ties with Adobe. Severing this relationship scares me because Photoshop has been good to me. There are things that I will miss by going to Gimp, but I'm sure there are new features that I'll discover and not be able to live without!
Where it began
Back in 1992, I used Photoshop for the first time in an advanced computer graphics class. The core programs for any graphic designer back then were Photoshop, QuarkXpress, Freehand, and Illustrator.
Photoshop was handy program, but it wasn't love at first sight. I was drawn to vector graphics over anything pixel-based. I blame Mac Paint for tainting my initial relationship with pixels. Those crazy pattern brushes really affected the way I looked at those little square. Back then, I only used Photoshop for light photo touch up.
When I got out of school the prices of computers were ridiculously high. By that point, all I had worked on were Apple computers but I ultimately decided to buy a PC as my first desktop.  PCs had more options, cheaper software and competitive prices. I switched over to Corel Draw from Freehand and Illustrator for creating vector art. For photo retouching, I discovered Picture Publisher. At the time, Picture Publisher did everything that Photoshop did at a fraction of the price. It was a program that I really liked. You could easily create macros, record scripts and masking was a dream. It had all the creature comforts of Photoshop and then some.
Re-enter Photoshop
In 2001, Corel bought Micrographx, the company that produced Picture Publisher. The acquisition meant the demise of Picture Publisher, so I ultimately needed to find another alternative. I refused to use Corel Paint because of the clunky interface. I was kind of at a loss.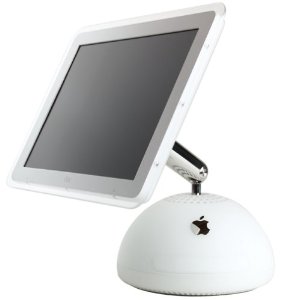 Then it happened. Windows NT was no longer being supported and I didn't want to jump to Windows XP. My original computer was finally starting to crap out and become obsolete after a wonderful seven-year run. 2003 was the year of the sexy iMacs with telescoping flat screen monitors on circular bases. Mac's OSX made Apple seem like it could be taken seriously as a professional tool. Finally, Mac's had multi-thread processors, meaning that you could do more than one thing at a time! To complete the trifecta, Adobe had acquired Pagemaker and repacked it as InDesign. And for the first time, you could buy a bundle of Adobe programs branded as the Creative Suite. This made Adobe affordable. Photoshop and I said hello, again.
Creative Sweetness
The Creative Suite was a beautiful marriage in the beginning. Each upgrade had substantial improvements. I was a true believer in this single solution. Before each Suite release, I would go to a local day-long workshop sponsored by Adobe to see all the new features that were in store. Creative Suite 2 and 4 were especially strong. During this time, I was working independently at various advertising agencies. Many of them hadn't made the switch from Quark to InDesign. I was a big evangelist trying to get clients to adopt the Suite. One of my favorite features early on that didn't take off was Adobe Stock Photo. Being able to search photo sites in Bridge and make purchases directly in InDesign was brilliant. It was a shame that it didn't take off with the user community.
Suite turns sour
After Creative Suite 4, things started to change. Fewer and fewer new features were being introduced in later releases. Great leaps like smart filters and smart objects in Photoshop seemed like a thing of the past. And wonderful new product ventures like the Digital Publishing Suite were inventive and easy to use from the start, but the software didn't mature with tablet technology. I upgraded to Adobe Creative Suite 5.5 from 4 only because I needed it to work with students who were using the later version of the software. If it wasn't for that, there was no major reason to upgrade my suite.
Last year when Adobe announced they were going to a subscription-based model, it was awfully reminiscent of loosing Picture Publisher to Corel. I knew it was the end for me and I had to move on.
Gimping along
Before Adobe made it's intentions known, I started dabbling with Gimp. I liked it, but it felt quirky. Unlike going from Picture Publisher to Photoshop which was seamless, Gimp was proving to be a rockier transition. Concepts like floating layers confused me and it took a quite some time to search for the plug-ins that would make my life easier. I would come back to Gimp every once in a while but would have to relearn where the quick keys or functions were. Photoshop has become an extension of my arm over the years, so it will take time to learn Gimp. Muscle memory can be a difficult thing to overcome.
Starting fresh with Gimp
In the past year, Gimp has made a real effort to make their software more accessible and easy to use. From design functionality like a single window mode to text editing on screen, they've made some real leaps. I'm not saying that I'll miss the things like Photoshop's smart objects or smart filters, but I can't prevent those convenient features from keeping from moving on. If I start supporting, using, and encouraging other to make the switch to Gimp, it can only help improve the software. Giving my time, money, and effort can only encourage others to do the same.
So as today, I will stop using Photoshop as my main image-editing tool. I can't quit cold turkey and just delete Photoshop from all of my computers. I still will need to use it at work and may need to bring work home. But here are my first steps to making Gimp my program du jour.
First steps for a smooth Gimp transition
Take Photoshop out the Finder dock on all computers.
Change 'Open with' defaults in 'Get Info' for all image file types from Photoshop to Gimp
Create a running list of Gimp procedures that are new or foreign so I can easily refer back for any question.
Remember to breath, regularly.
It's not going to be easy, but today is a new day and the beginning of a new relationship!